Looking for a friendly lunch club?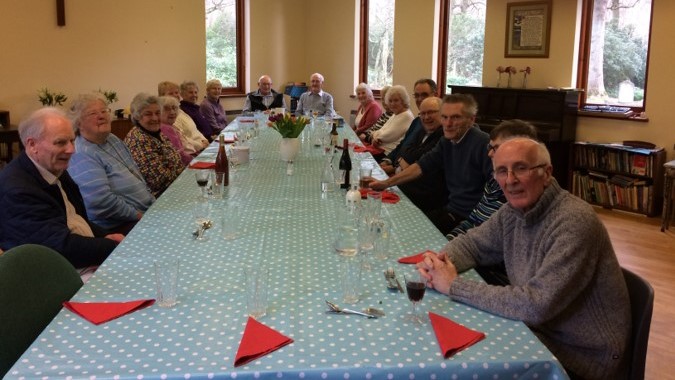 'Friends for Lunch' meets on the 3rd Wednesday of the month at St. Mark's Room, Ampfield.
Our main aim is to serve healthy and tasty home-cooked meals in a friendly and relaxed atmosphere. We give older people an opportunity to eat in the company of others and our cooks and servers enjoy the experience as much as the diners. Favourite meals are roasts, cottage pie and our summer buffet. In August we serve a cream tea. After lunch we play bingo with Ron our caller. A glass of wine and chocolates with tea or coffee add to the fun. The cost is £8.
It was launched in April 2015, has a 5* environmental health rating and, before Covid, we regularly served 20 diners, with a loyal core of members. Most of the food is cooked at home and brought in hot but sometimes we must cook on site. We found that, with increased numbers, the kitchen was not adequate. Our wonderful members stepped in and with their generous donations and the help of Romsey Men's Shed the kitchen was refurbished during lockdown.
Early booking is essential - please contact: Kate on 07738 467350 or email friendsforlunch@acnb-church.org. Arrive at 12:15 for lunch at 12:30.
Updated 14th February 2023: Added cost details.