Sailing and finding God in the wild
Find out about the adventure that Ian Wylie, who used to worship with us, is embarking on.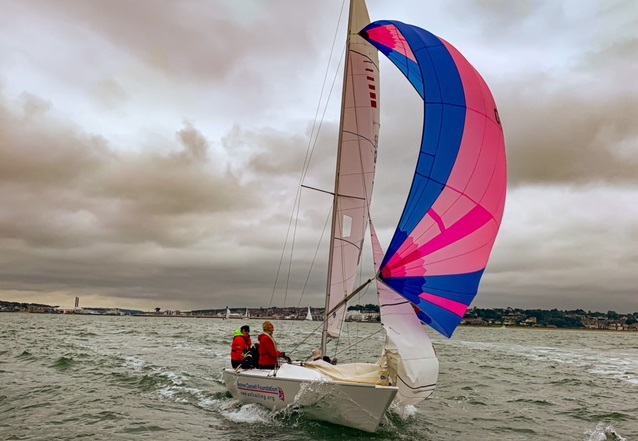 Ian writes:
Later this August, I'm going to start a long slow solo sail round the UK and Ireland. For those of you who remember me, that might be a bit of a surprise, as when I came to ACNB Church now nearly a decade ago I was in a really rough state. I'm grateful to all the churches in the group, to the prayers of many and to the Andrew Cassell Foundation who helped me, a disabled person, get back to independence on the water. My sail is in part to raise awareness of their work, and funds to help them grow.
You can help the Foundation and encourage me by clicking: 'Donate Now' at SailingTrilleen.org. Any gift is amazing. Every little really does help get more disabled people sailing sooner.
One of the things that I learnt during those rough rough years was that I couldn't do without the wild, because as well as being a place of hazard, I've learnt it's a place of where the noise of modern life is stripped away and the life of God is more easily visible. I was in my time @acnbchurch grateful for the churchyards at St John, St Denys and St Mark because, in their different ways they are each places of peace and mild wildness.
The Andrew Cassell Foundation were instrumental in helping me get out of the Nursing Home at Kingfisher Court. I'm grateful to the team there, because without their acute clinical judgement I don't think I would ever have got the repeated and worsening cycle of infections related to my spinal cord injury stabilised. But the Foundation were the organisation that made my rehabilitation real and present. They work with disabled people to help them achieve maximal independence on the water.
My sail will be altogether less high performance. I'll be sailing solo, in a Vancouver 27 an 8.34 glass fibre transoceanic capable design built the year I was born in in 1979. She like me, has been on a bit of a rehab journey over the last two years. Also like me, her state is now adequate, but there is much more to do. I'll be going slowly, both for safety reasons, but also because I want to connect with people along the route, tell them the story of what the Foundation does and invite them to help us, or refer new disabled people to us.
I'll be setting off in the middle of August, the week after Cowes Week, where I'll be helming one of the Foundation's Sonar sailboats in the regatta week. We find the Sonar, a former Paralympic boat, is a great platform for helping disabled people explore how they can achieve the maximum in terms of independence on the water. The Foundation trains through the long cold months of the winter developing skills and improving fitness before racing in Cowes Week as a celebratory finish to the training cycle for that year.