Following a star
Help us to decorate the churches this Christmas with knitted and crocheted stars.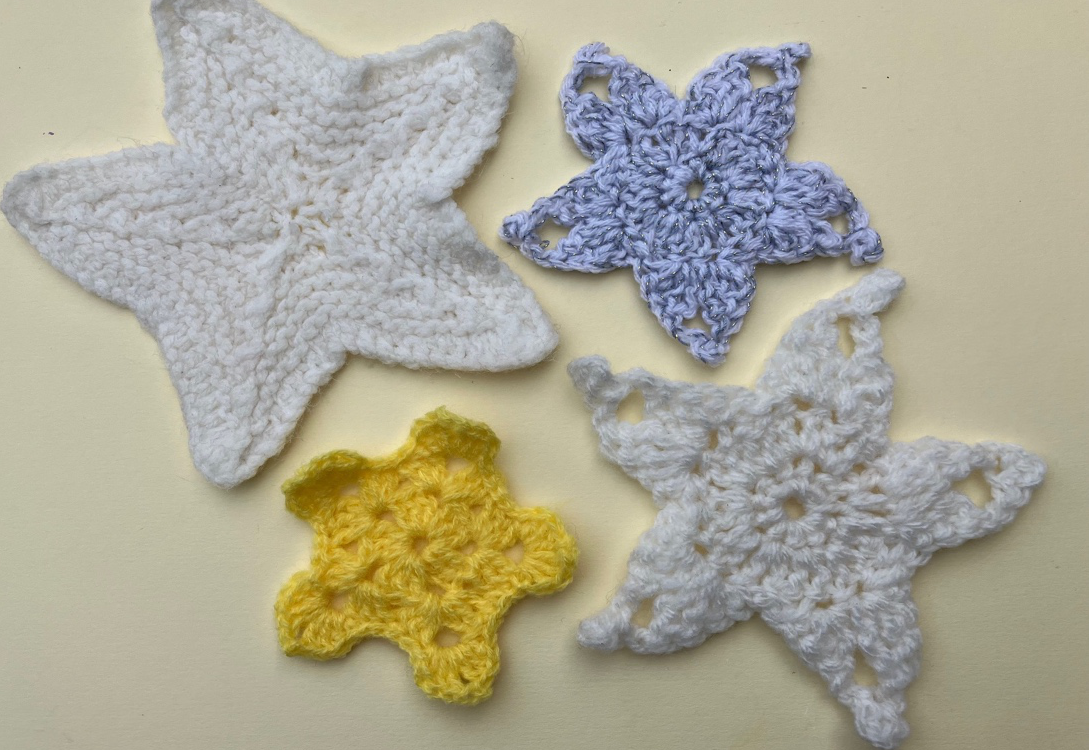 In preparation for our Christmas events, we are collecting knitted or crocheted stars - it would be fantastic if the churches in the group could be filled with these handcrafted stars at Christmas.
If you can crochet or knit (or perhaps know someone who has one of these skills) and would like to contribute some stars please get clicking and looping away!
Our colour theme is gold, silver, white, yellow and cream and the stars can be of any size, but the larger the better as they will stand out more! Use any pattern you like but there are a couple below in case you haven't got one.
Finished stars can be dropped of at any of our church building or you can contact us to let us know you have them by emailing joinin@acnb-church.org or phone 023 8073 7617.
Thank you in advance and we look forward to seeing you at our Christmas events.
Knitted Star
A good pattern for knitting a star can be found here.
Crocheted Star
Hook to suit thickness of wool
Abbreviations:

ch: chain    dc: double crochet    tr:  treble crochet    dbtr: double treble crochet   ss: slip stitch

Row 1: ch 5 join into a circle with a ss
Row 2: ch 2 and then 10 dc into ring, join to top of the 2 ch with a ss
Row 3: ch 3 then one tr into next ch of row 2;
            2 tr into each dc from last row ending with tr into bottom of 3ch ss, into top of 2 ch, (21)
Row 4: dc 1 in next ch *2 tr into next ch, 1 dtr into next ch
            5 chain and then ss into second of that ch (makes the point of the star) 3 ch and 1dtr into
            same ch, 2 tr into next ch* dc into next ch, repeat *ss into first dc of the last round.

Updated: 5/11/23 to use link for knitting pattern